Where Fond Memories Become New Memories
Cravin's Candy Emporium is a neighborhood candy store offering products you'll love in a fun friendly atmosphere. We believe that every minute of your day counts and you should enjoy your time. We invite you to stop in, taste the best ice cream around, check out our epic selection of nostalgic candy, handcrafted chocolates, glass bottled sodas, gifts perfect for any occasion, international candies from all over the world, and so much more!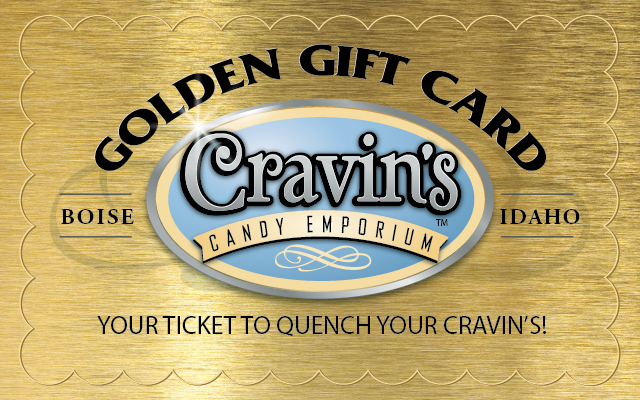 "This Neighborhood Candy Store In Idaho Will Make You Feel Like A Kid Again"
Even though we lived in different parts of the country, we both grew up with a beloved neighborhood candy store. As a kid, there was nothing more exciting than choosing  your own sweet treats and paying for them with a fistful of coins that had been saved-up for just such an occasion. Walking home with a brown paper bag full of Sixlets, Blow Pops, a Nut Goodie, and a bottle of Nesbitt's strawberry soda, was nothing short of sweet success!
Everyday, we feel fortunate to see people from 2 – 92 rediscover long lost treats and share their memories. Our store is located in a neighborhood so we know many of our customers and their children too. We get introduced to grandparents when they are visiting and get to witness the generations talking and sharing childhood memories…it truly is the best part of our job! Our own children like to put on aprons and "help" in the store. We know that this experience will ensure many stories for them to tell their own children and grandchildren!
After being in business for 10 years, we've learned that one thing is for sure, candy, especially nostalgic candy, represents simpler times and happy memories. Come rediscover candies from your childhood and indulge in a sweet treat…it just plain makes you feel good!
We look forward to hearing your story…
Joe & Debbie
---
LOCATION
Cravin's Candy Emporium
in Bown Crossing
3064 S. Bown Way
Boise, ID 83706
HOURS
Monday – Saturday
11am – 9pm
Sunday
11am – 8pm
EMAIL
PHONE
208-424-6099
ENJOY EVERYTHING BOWN CROSSING HAS TO OFFER!
We're located in the Bown Crossing area of East Boise. While you're here, be sure to check out some of our business neighbors. You can find several amazing restaurants to grab a bite to eat, get a relaxing massage at one of the spas, rent a bike and ride the Greenbelt, and of course stop in to Cravin's for a sweet treat! if you're looking for the place that has it all, Bown Crossing has got you covered. We can't wait to see you!